Striving to learn the reasons of impotence appearance or possible ways to improve it, one should start with its essence. First of all, erectile dysfunction is a male condition that affects the blood circulation and penile muscles. The main feature of impotence is an inability to achieve and hold an erection sufficient for a satisfactory sexual intercourse. Generally, this issue appears with age, but currently the situation is changing greatly. According to the statistics, more and more young men are getting impacted by erectile dysfunction and its frustrating symptoms. The results of numerous experiments and poles showed that over 5% of males under the age of 40 experience the condition, while the percent is constantly growing. 8% of males between 40-49 are facing the condition. Over 30% of people between 50 and 59 get the issue, while the most frequently (over 45%) get affected after 60 years old.

However, aging does not presuppose erectile dysfunction, even though it can increase the risk of its appearance. The process of male sexual arousal depends mainly on sequence of certain events in the organism that start with the brain and finish in the penile area. Thus, normal erection after 50 is real, but you need to control your body functions. Besides, it is inevitable to treat the conditions that may aggravate ED, such as heart-related problems, diabetes, increase cholesterol level and others. Make sure you have no underlying disorders and enjoy stiff erection irrespective of your age.
Correlation between Age and Erectile Dysfunction
Despite the frequency of impotence occurrence increases with age, it is possible to prevent the condition and treat at its early stages. As a rule, the inability to keep and hold erection appears as a result of health impairments, or as a side effect of certain medications. The reason why erectile dysfunction is related to age is because the vast majority of diseases affect older men, especially:
Decreased testosterone level;
Diabetes;
Multiple sclerosis;
Enlarged prostate;
Hypertension;
Heart disorders;
High cholesterol;
Parkinson's disease and others.
How to Hold Erection at Age 60 and More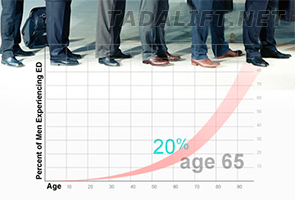 Despite all the possible reasons and causes, erectile dysfunction is treatable and can be easily improved both naturally and with the help of effective medication. Life changes are inevitable for elimination of impotence symptoms. Keep in mind that there are many psychological factors that influence male functioning, including anxiety, embarrassment, stress and others. Learn to control the emotions, and you will make a significant step towards the condition improvement.
Besides, it is inevitable to treat other health problems that cause or aggravate erectile dysfunction. Consult your healthcare provider to get the optimal medication to improve the situation. Quit smoking, forget about stress and build good relations with your partner.
If there is still no help, you can choose one of quality and effective erectile dysfunction drugs available in the pharmaceutical market. They will definitely boost your male power and ability to keep erection long.