Watermelon is rich in citrulline, an amino acid that – reacting to the enzymes of the human body – turns into arginine, the substance that dilates blood vessels. The process would be the same as for impotence medications. In addition, watermelon would not only facilitate sexual activity but would also strengthen the heart, the circulatory system and the immunological system.
The name of the substance derives from the Latin name of the watermelon (citrullus vulgaris), but citrulline is also present in the other plants of the cucurbitaceae family (melons, cucumbers, pumpkins) and is marketed in the form of supplements that promise longer lasting erections and better sexual performance.
There are several properties that would be attributed to citrulline although still to be verified from a scientific point of view: the tests, conducted on animal models and in some preliminary clinical studies, have provided encouraging results on moderate erectile dysfunction, although not miraculous powers.
As far as the aphrodisiac capacity of the substance is concerned, the beneficial properties attributed to it would depend on its transformation, within the body, into arginine, the amino acid involved in the synthesis of nitric oxide. Through this process, citrulline would be able to stimulate the cardiovascular system by promoting dilation and increasing the elasticity of the blood vessels (against which the substance would have protective capacities).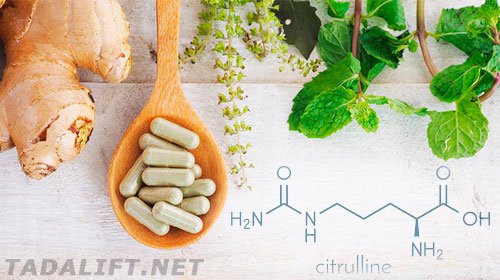 Since citrulline features powerful vasodilatory properties, it would also be able to promote erection and counteract erectile dysfunction. Vasodilatation increases the turgor of the corpora cavernosa and contributes to the erection of the penis. In addition, citrulline would decrease muscle fatigue, facilitate aerobic physical activity and promote psycho-physical recovery in case of stress.
Of course, eating a lot of watermelon is not enough and can even be counterproductive: the fruit contains a lot of sugar and has a high diuretic power. In addition, citrulline is mainly contained in the watermelon rind. Reasons why, to try to counter sexual dysfunctions, the substance should be taken in the form of a food supplement.
There are no particular contraindications: the appropriate consumption of citrulline is well tolerated. However, it is good to avoid taking it yourself and seek the advice of an expert first, especially if the choice of citrulline is aimed at the treatment of erectile dysfunction.
Although the optimal doses and the maximum tolerated doses of citrulline are not yet known, in the various published studies the dosage most used in clinical tests was 1-3 grams per day, which proved effective both in improving the degree of erection and in increasing the frequency of sexual intercourse. The same dosage has generally proved safe and free of clinically relevant side effects.
However, excessive doses equal to or greater than 15 grams per day could cause the appearance of unpleasant gastro-intestinal symptoms such as diarrhea, cramps and nausea. It goes without saying that, in the case of contextual drug therapies or cardiovascular pathologies, it would be advisable to seek medical supervision before and during treatment.