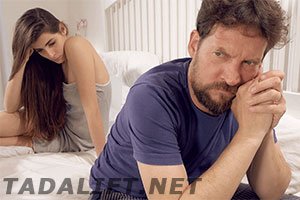 Tadalafil, the substance used against the background of erectile dysfunction, more known as Cialis, its commercial name, is also used in preventing the increase in the volume of the prostate gland – a condition that affects 70% of men after the age of 40. The drug has been used to treat benign prostatic hyperplasia for many years now, so this effect of tadalafil has been widely known and well studied. What has not known been yet, precisely, was the real percentage of patients who, in therapy with this drug, then had a significant improvement of these two clinical problems when they were present together.
It is known that about 70% of men with benign prostatic hypertrophy also have a problem with adequate penile rigidity, now a multicenter study involving four major US institutions and coordinated by Claus Roehrborn, a researcher at the University's Department of Urology of Texas in Dallas, tried to clarify how many patients, with clinical symptoms of benign prostatic hypertrophy and with a simultaneous deficit of erection, have experienced a meaningful and measurable benefit when they were given tadalafil.
The four randomized, placebo-controlled studies involved 927 men over the age of 45, with symptoms of benign prostatic hypertrophy and erectile disorders, who were randomly given one tablet of tadalafil 5mg or placebo a day for twelve weeks.
Having made all the necessary statistical evaluations, comparisons and adjusted all the possible variables it was observed that in the group of men who took tadalafil, 40.5% showed significant improvements, both on erectile dysfunction and on urinary tract symptoms inferior linked to benign prostatic hyperplasia, while in the group of men, who took placebo, only 18.3% reported an improvement in the two clinical problems complained of.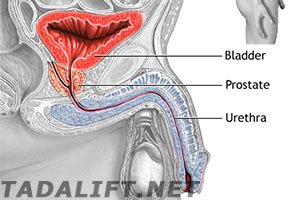 Clinical information this very useful basis that should now also allow us to continue, with more in-depth and targeted evaluations, to study other and different groups of patients, for example those who have had more complex and combined therapeutic indications: men already treated with other drugs, or already undergoing surgical treatment and more.
However, all the contraindications to the use of tadalafil (Cialis) remain, and therefore should never be prescribed to patients taking nitrates, nitroglycerin, as this combination can trigger a significant decrease in blood pressure; furthermore, it is not currently recommended to use it in combination with drugs belonging to the alpha-lithic class, which are also widely used in the presence of obstructive disorders, always due to benign prostatic hypertrophy, as this therapeutic strategy has not yet been appropriately evaluated and tested.
In patients with BPH, tadalafil is used in smaller doses of 2.5mg and 5mg as Cialis Daily. It is also established that a daily use of tadalafil can help restore erectile ability and eliminate the need to take ED medications.