Medications from the PDE5 inhibitor group are used to treat the erectile dysfunction in the modern practice. The first representative of this group has been Sildenafil.
Pfizer company developing this ingredient for the treatment of the cardiovascular diseases have found out that a positive effect on the potency is higher than on the cardiovascular system. Yes, in 1998, the first drug for the treatment of the erectile dysfunction Viagra appeared.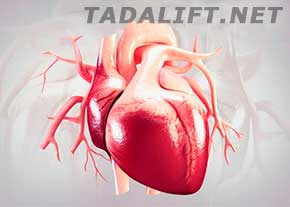 However, PDE5 inhibitors have not lost their pharmacological properties, and it was detected during the numerous studies that a regular use of the drugs for the treatment of the erectile dysfunction helped to keep a health of the cardiovascular system.
An independent study group from Sweden has conducted tests of PDE5 inhibitors among men with myocardial infarction. More than 60 thousand people at the age of about 64 took part in the studies.
It was detected after the studies and corrections of other medications use that general death rate was by 33% less, and the frequency of the heart failure attacks was by 40% less in comparison with men who did not take PDE5 inhibitors. At the same time, a therapeutic effect and a final result depends on a dose, and the functions of the cardiovascular system may be affected by the dosing regimen.
Moreover, men who take PDE5 inhibitors and have an active sexual life have more developed tolerance, better capacity of the blood vessels, more even values of the blood pressure, and also seldom tachycardia.
The erectile dysfunction is an original indicator of the health of the cardiovascular system. If the treatment of the erectile dysfunction helps to improve heart and reduce a risk of the development of the heart attack and cardiac failure, it means that it is necessary to use the PDE5 inhibitors more in the clinical practice.
However, scientists do not rush. There are many nuances that may influence on the final result of the erectile dysfunction treatment, and some PDE5 inhibitors not always help to achieve the improvement of the heart health. Therefore, it is necessary to consult a cardiologist before starting the treatment of the erectile dysfunction.